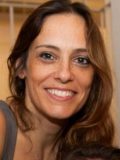 Avital Sarid
Education Coordinator
avital@squashbond.org
Avital has her B.A and M.A degrees in law and has been a lawyer for 23 years. Among other things, she worked as a criminal lawyer in the police force and as a youth advocate, and worked extensively to help rehabilitate youth.
Due to her deep connection to youth and her love for sports, she completed her studies in the Psychology of Sports at the IDC Herzliya. Over the past seven years she has been working with sports teams using group dynamics and development of mental and social skills in order to maximize the individual and the group's achievements.
Avital was a catchball player and participated with the Raanana Catchball team at the 20th Maccabiah games in 2017.
Avital joined SquashBond in 2015 as a volunteer and today works as the head of the education program.
She lives in Raanana with her husband and 3 children.
Ragda Sultani
Instructor
Ragda holds a B.A in Education and and M.A in Education System Management. She grew up as an athlete and a student at an educational youth center in Tira. As a child she played basketball in a girls group, and played at school and a local leagues. She was also competitive both individual and teams as a runner and won medals.
After graduating from high school, she worked as a mentor and youth coordinator Hanoar Haoved Vehalomed Youth Movment. In addition, while she was studying Education, she worked with children at risk at a school in Jaffa.
Today, She works in a middle school in Tira as a teacher for math and Arabic.
Five years ago, She joined SquashBond as a representative of Al Zahara school and later joined SquashBond's Raanana team as an educational and social instructor.
Gil Klimor
Instructor
Gil is doing her M.A degree in Diagnosis and Treatment of Learning Disabilities at the Haifa University.
In addition, She works as an auxiliary teacher for students in the fields of English and Academic writing.
Gil loves traveling and experiencing new adventures.
As a child she practiced and loved gymnastics and classic ballet. Her work with children and youth began in her Shnat Sheyrut (service year prior to the army service) as part of the Tarbut Movment and continued in a kinder-garden for children with special needs and now she is getting practical experience in an elementary school.
"I wanted to join SquashBond because I believe that sports and joint youth activities create an opening for personal expression and integration between groups that would not otherwise meet. In this context we find that there are more connection points than differences."